Adventure To Africa
Safari to Africa ~ One of the world's greatest adventures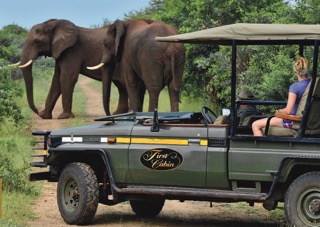 Awake to the sounds of Africa and and the brilliance of a firestorm sunrise
, ready to climb aboard your safari vehicle as you eagerly ride across the savannah and into the tree line to experience the early morning activity within the wild. It is at this time of day that you find the activity on safari at its peak, and an early riser seldom goes unrewarded. Continue on your search for the "Big Five" of the animal kingdom across rolling plains, nearby forests, rivers, and grasslands.
Criss-cross the veld and capture by eye and lens the colorful zebra, the hearty wildebeest, the speedy cheetah and the spotted leopard; the more elusive the animal, the greater the find, the stronger the memory.
Expert are your guides as they not only detail the history of the land, interlacing it with personal folklore, but amazingly find the most elusive and rarest of beasts that begin their every day as a quest for survival. Allow yourself to feel the excitement of the hunt, the thrill of the pursuit and the shooting, by photograph or memory, of animals in the wild. It is here on safari that you will capture the feeling and spirit of this fascinating continent and better understand why so many often return and others never to leave the magnificence and splendor of Africa
Since 1989, First Cabin has led the way creating splendid itineraries for it clientele with the majority of bookings derived from repeat clientele and the ever-so-enthusiastic referrals. Visit its website to learn why.
First Cabin Travel
CA Reg: 2016168-40