Bangkok Oriental - Perfect Venue
A perfect venue for a pre-tour relaxation when visiting Southeast Asia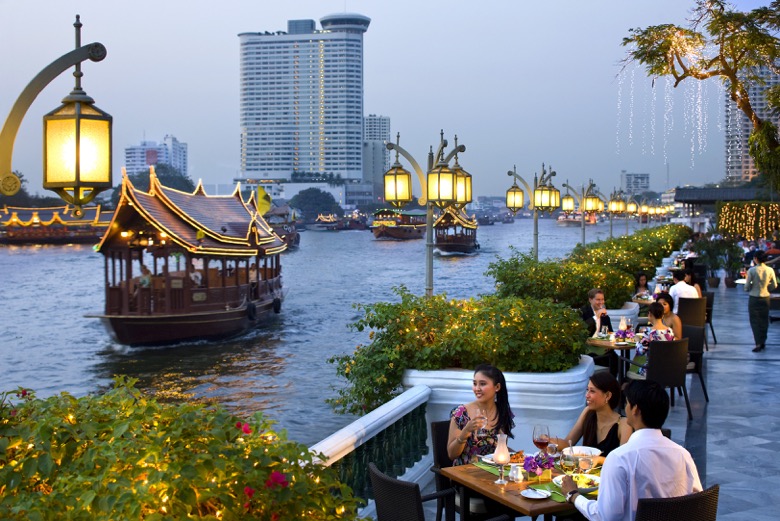 Traveling to Southeast Asia provides a wealth of fascinating sights and a window into
a colorful variety of cultural norms that are uniquely different from what the western world has to offer on a holiday tour. One of the wisest choices when traveling is to choose a pre-tour haven to adjust to the locale time a gain relief from the long flight to the gateway city that begins your travel adventure.
On the very top of the list would be the Bangkok Mandarin Hotel, which has been rated within the top five in the world for decades. Its presence on the Chao Phraya River, which is filled with teak barge river traffic in daily procession to deliver goods and passengers along its waterway. The klongs (canals) in Bangkok that are intertwined throughout the backwaters that surround the city offer a wondrous adventure by boat passing sampans laden with fruits and vegetables as they make their way to the floating markets.
Bangkok, is the gateway city to its surrounding neighbors, including Vietnam, Cambodia, Laos, and Myanmar (Burma). The flight connections are excellent and each of the country has its own unique and magnificent sites to explore. Be it Ha Long Bay in the north of Vietnam, the Mekong Delta to the south, the magnificence of the ruins at Angkor Wat, the idyllic, former provincial capital of Luang Prabang or the beauty of Inle Lake in Myanmar, each country is a world unto its own.
First Cabin Travel, established in 1989 has led journeys to Southeast Asia the past 3 decades with the majority of bookings derived from repeat clientele and their ever-so-enthusiastic referrals.
The pent-up demand for travel post Covid will surely strain the availability of accommodations and services, thus a word to the wise would be to make bookings well in advance of a planned holiday.